Yesterday marked demo day 2014 for the world's first 3D Printing start-up accelerator, GIGTank.
Hosted in Chattanooga, Tennessee by The Company Lab, GIGTank brought together some of the biggest names in 3D Printing from all over the globe to hear the pitches from seed stage startups in the additive manufacturing / 3D printing, smart grid and healthcare industries. The host city Chattanooga boasts one of the fastest fiber optic network connections in the United States thus enabling start-ups to build their innovations on speeds up to 100x faster than traditional network connections.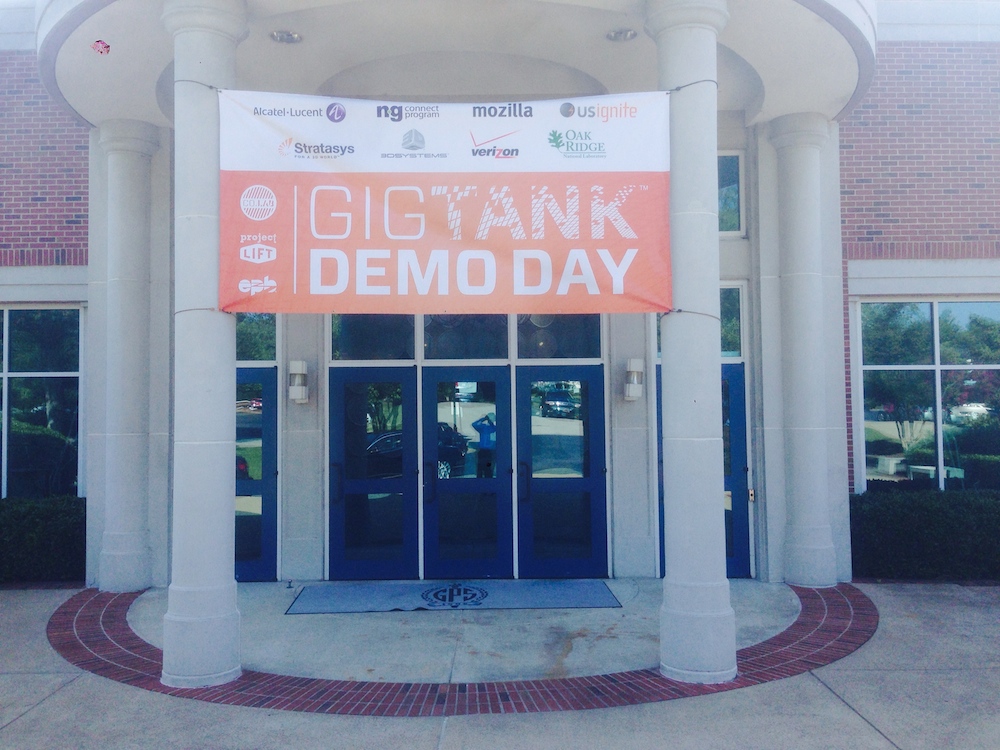 GIGTank's demo day marked the successful completion of the very first accelerator exclusively designed to attract entrepreneurs from the additive manufacturing / 3D Printing industry. Sponsors included industry Goliath's such as Stratasys and 3D Systems and the keynote was provided by none other then one of the most brilliant minds in 3D Printing, Terry Wohlers. Part of the demo day included an additive manufacturing / 3D Printing track for investors, media and potential partners to hear from on why the time is now to invest in 3D Printing.
Keynote by Terry Wohlers
Terry Wohlers' company, Wohlers Associates, provides technical and strategic consulting on the new developments and trends in rapid product development, additive manufacturing, and 3D printing. He talked audience members through the rapid changes that have occurred in 3D Printing as of late, specifically with the Fused Deposition Modeling (FDM) patents expiring there has been a tremendous influx of cheaper desktop models hitting the market. Looking to the future he pointed out that the selective laser sintering (SLS) patents that just expired may very well lead to another dynamic shift to the additive manufacturing industry as a whole.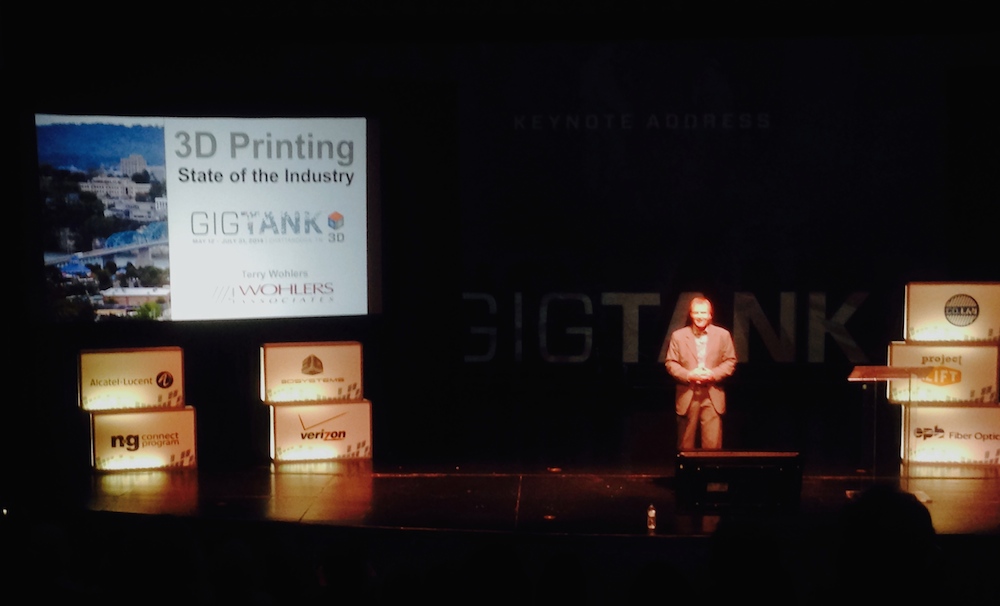 One of the reasons we enjoy this industry so much is the potential for growth and Mr. Wohlers closed the keynote with the fact that if Additive Manufacturing can penetrate just 2 percent of the current manufacturing industry market cap that's a 210 billion dollar opportunity. The 3D Printing / Additive Manufacturing industry is primed for further expansion as big names such as Amazon and Google are just starting to dip their toes into the hypothetical water. Talk about upside!
Panel Discussion: Why Invest in 3D Printing?
GIGTank also included a panel discussion on why the time is now to invest in 3D Printing. The panelists including the aforementioned Terry Wohlers, Hugh Evans from 3D Systems, Bruce Bradshaw from Stratasys and Jim Underwood of Playcore.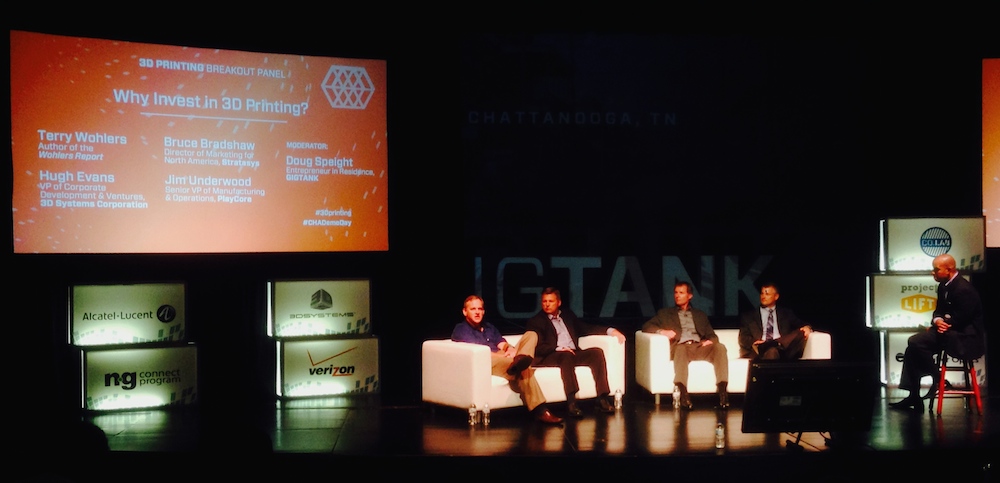 Over the past four years, the additive manufacturing industry has nearly tripled in size, with growth reaching almost 35 percent in 2013 alone. Those staggering numbers set the tone for the panelists to talk through the enormous entrepreneurial opportunities that are emerging within the Additive Manufacturing / 3D Printing realm.
The 3D Printing Start-ups
The 3D Printing / Additive Manufacturing start-ups encompassed everything from custom designed shoes to non-toxic scaffolding for biomedicine. A detailed outline of the participants is below: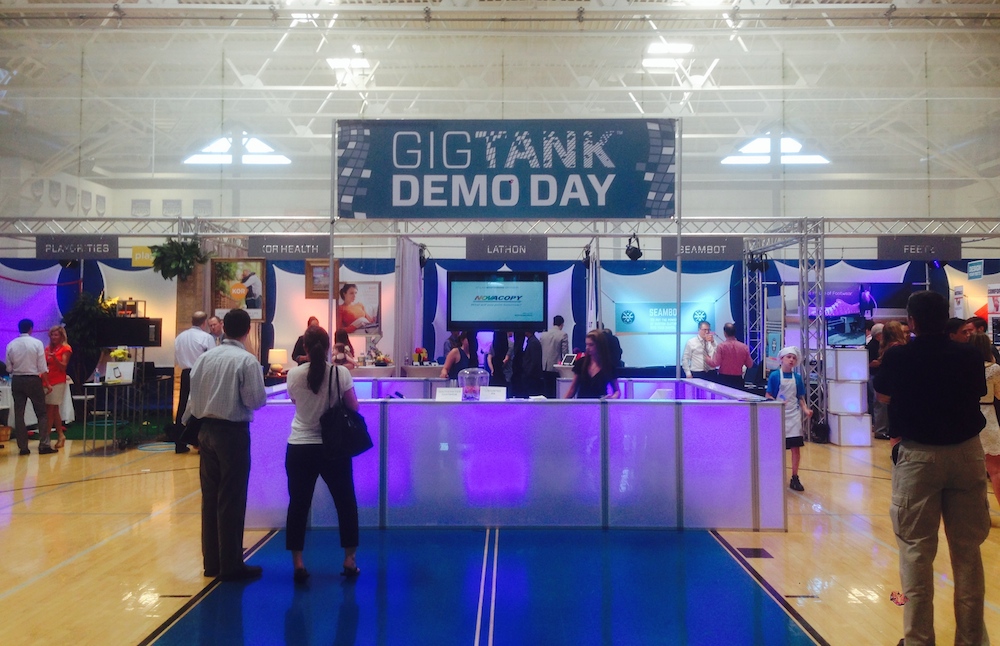 Feetz:
3D printing manufacturer and retailer that creates custom-fit footwear for consumers of all shoe sizes. Using patented algorithms and snapshots from the customer's phone, Feetz integrates custom sizing measurements with individual design preferences to bring comfort, fit and style into each pair of hyper-customized shoes. Feetz.co | @feetZshoes
Lathon Technologies:
Producer of affordable dual material desktop 3D printers. The company's leading product, the Lathon 3D Printer, is a dual-nozzle large format printer that prints multi-material parts faster and larger than current desktop printers on the market. Lathon.net | @lathonprinter
SeamBot:
Additive manufacturing technology for clothing makers and crafters worldwide. The platform uses automation technology from the textile industry to enable the rapid creation of clothes and textile products. Seambot.com | @SeambotCo
The Fab Cloud:
Web platform that facilitates project collaboration between partners and customers in the additive manufacturing industry. This online network connects users with additive project proposals to equipment owners who are looking for clients, while equipping both parties with successful case studies to guide the way. TheFabCloud.com
TrakTek3D:
Mobile manufacturing facility that uses advanced 3D printing to create an array of metal and polymer-based parts on-demand and on-site at the location of clients' choosing. This innovative new platform drastically reduces lead time while bringing lightweight, customized parts to consumers in industries ranging from equestrian sports to automotive racing. TrakTek's website
3DOps:
3D printing manufacturer that provides contract medical devices for pre-surgical planning. Using patient-specific data, the company creates anatomical 3D models that enable surgeons to plan procedures before operating on patients. 3Dops.co | @3Dops
Nestegg Bio:
Biotech solutions provider that leverages 3D printing to spur advancements in biomedicine. Using patent-pending technology, the company provides non-toxic scaffolding to the pharmaceutical and research industries – enabling them to make informed decisions about which products to fund and reducing the cost of bringing a single drug to market. NestEggBio.com | @NestEggBio
Bringing together such a wide range of 3D Printing / Additive Manufacturing applications in one place is a feat in itself. With over 900 people in attendance and so much excitement around the growing industry, it looks like GIGTank has firmly entrenched itself as an incredible resource for 3D Printing startups. We're looking forward to next year's event!
More information on GIGTank could be found here: http://www.thegigcity.com/gigtank/